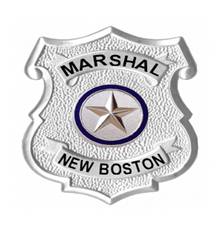 Under the Ohio Revised Codes for Villages, the position of Chief is defined as a Marshal of the Village.
New Boston Chiefs Of Police
Art Rutter             1906-1907  Killed In The Line Of Duty (Gunshot) 04/28/07
C.W. Finney         1907
Charles Patrick     1907
Amos Syndor       1907-1909
Frank Taylor        1909
E.S. Wiget           1909
Thomas McKinney 1910
Joseph Fitch        1910-1911
John Coburn        1911-1912
Lawrence Fitch     1912-1913
W.I. Davis           1914-1920
Frank Hall            1920-1923
Ollie Cassidy        1924-1925
Tom Harris          1926-1928 Died from Gunshot Injury on 12/21/28
John Adams         1929
Doug Bowling       1930-1931
Clarence Highfield 1932-1948
George Elkins       1948
Charles Ottney      1949
George Elkins        1949
Fred Brown           1950-1961
Russell Imes         1961-1975
Jack Foit               1975-1980
Gary Stone           1980-1999
Darrold Clark         1999– 2017
Steven Goins          2017 to Present Date
The pictures presentation of the Chiefs of Police for New Boston Police Department is below. These are the only pictures we have of Chiefs of Police. Anyone who might have pictures of any of the above Chiefs of Police please contact us so we can make a copy and put their picture in the presentation.