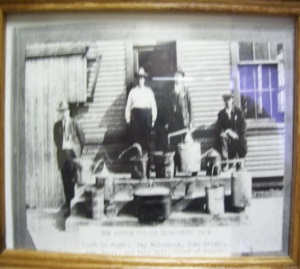 Welcome to the official website of the New Boston Police Department. Under the Ohio Revised Codes, Police Officers in a Village are originally recognized as Marshals and Deputy Marshals, with Marshals being the same as a Chief of Police and Deputy Marshals being the same as a  Police Officer.  In 1906, the Village of New Boston was incorporated and the first Police Department was started with the first Marshal being Art Rutter. The heritage of New Boston is the steel mill that was located in New Boston for many years and the steel mill is depicted on the Police Department's current uniform patches. New Boston is located along the Ohio River and the rolling hills of southern Ohio which is also depicted on the uniform patches.
The Department has had two Officers killed in the line of duty, Marshal Art Rutter was shot and killed in 1907 and Marshal Tom Harris was shot in 1926 and later succumbed to his injuries in 1928.
Our Department rank is comprised with a Chief of Police, Captain, Lieutenant, Sergeant, and Patrolman. Currently the ordinances for New Boston require twelve sworn full time Police Officers.  In addition to the Police Officers, we have four full time civilian dispatchers. Our Department operates twenty four hours a day, seven days a week, and is equipped with six hour jail facilities and dispatching for all emergency calls for police, fire, and ambulance within the Village. Our Department serves and protects a Village with a population of around 2,300 residents and a day time population of around 4,000 to 6,000 people who work, shop and travel through our Village.
 All criminal cases and arrests are prosecuted within the New Boston Mayor's Court and the Portsmouth Municipal Court. Officers investigate all misdemeanor and felony crimes occurring within the Village. Misdemeanor cases can be prosecuted through the Mayor's Court or filed and prosecuted at Municipal Court. On felony cases that are investigated, they are presented to the Scioto County Prosecutor Office for consideration to the Scioto County Grand Jury and then prosecuted at the Scioto County Court of Common Pleas.