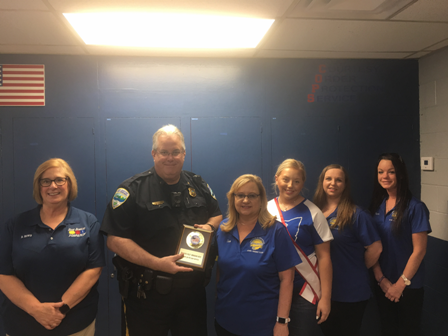 On May 1, 2019 the New Boston Police Department was visited by Representatives from the ADAMHS Board and Miss Valley Shelby Metzler for ADAMHS Board's First Responder Appreciation Day.  They presented Chief Goins and Dispatcher Becky Howe a nice plaque and a tray of cookies for Appreciation for what First Responders do everyday. Miss Valley was present for her project for Suicide Prevention which ADAMHS Board has a Crisis Hotline Number (740) 354-1010 for anyone needing help.
NBPD encourages anyone needing help with having thoughts of hurting themselves or having problems with Opiate addictions to call the Crisis Hotline.
Thanks to the ADAMHS Personnel and Miss Valley for your visit and kindness to our Officers.